Childs Glacier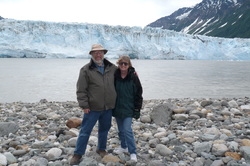 Childs Glacier is possibly the best place in Alaska to safely view icebergs calving from a glacier comfortably and from close range. Visitors can drive a good gravel road from Cordova to the
US Forest Service campground
located just before Million Dollar bridge, a 1910 remnant of the Copper River and Northern Railway, that was built to carry ore from the
Kennecott Mine
. Childs is the closest of several glaciers that empty into the Copper River here, and it provides spectacular viewing opportunities for hours on end from the relatively safe perspective of the riverbank. There is a covered picnic shelter, camping facilities, well water and toilets. Nevertheless, large ice falls have been known to release huge waves, swamping both the shore and the parking area.
---
Columbia Glacier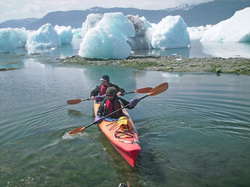 Columbia Glacier empties from the Chugach National Forest into Prince William Sound. Columbia is one of the fastest moving glaciers in the world, having "retreated" about ten miles since the early 1980's. When a tidewater glacier retreats (melts back) from it's terminal moraine, seawater can get below it and spur rapid ice calving. That's the case with Columbia and it results in a thousands of icebergs entering Prince William Sound. Calving ice is hazardous, so boats generally stay about a quarter-mile away from the face. Large icebergs can also flip unexpectedly as thawing changes their center of gravity. Some of these bergs had grounded on the seabed during a falling tide, and could be approached more closely than others. Guided trips to kayak around Columbia Glacier are available from
outfitters in Valdez
.
---
Yanert Glacier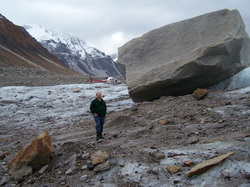 Yanert Glacier, near Denali is conveniently, if not inexpensively accessible by seat-fare helicopter service.
---