Yanert Glacier
Yanert Glacier is in the Alaska Range outside of Denali National Park. The stripes in a glacier's ice are rocks, and some can be very large. Glaciers only move downslope, sometimes dragging along huge quantities of rock as they move. When the glaciers from several mountain valleys meet, they may join together and the rock that had been travelling along their outer edges (lateral moraine) can end up in the center of the larger combined glacier. As the glaciers continue to feed more ice and more rock downslope, the glacier can accumulate stripes of different colors, each reflecting the color of the rocks in the valley where they originated, sometimes many miles away.
---
Glacial Rock and Helicopter
It is hard to appreciate the size of some of the boulders carried by the glacier. Click on the picture to enlarge it and see our helicopter hovering by the rock.
---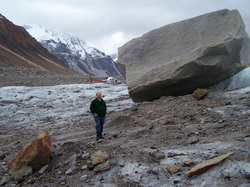 Here's the same rock, called "House Rock" shown in the picture above.
---
Moulin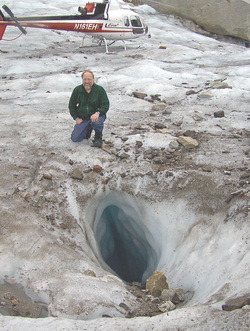 A moulin is a drainage chute from the ice surface into the glacier. Think of a moulin as a funnel made of ice, and leading into the depths of a glacier. Travelling on the surface of a glacier can be perilous, and the bottom of a moulin is not a place where you'd want to find yourself unexpectedly. There were many sharp rocks frozen into the ice around this small moulin, providing us with secure footing for a picture.
---
Blue Ice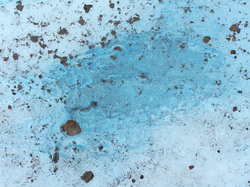 The crystalline structure of glacial ice absorbs the red and yellow hues of sunlight, reflecting back only the blue. This picture is of the ice directly below my feet, with smaller rocks frozen throughout the ice.
---