Wild Alaska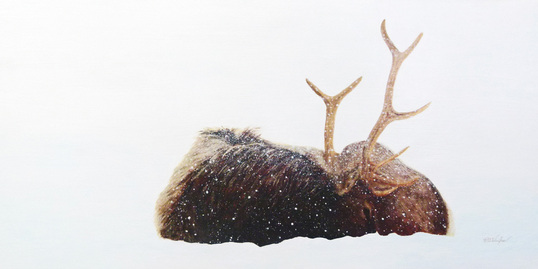 Elk in a Snowstorm

I enjoy watching wildlife in any weather, but there's nothing more relaxing for me than painting a powerful animal curled up and resting in a gentle spring snow. That's something special about living in Alaska too.

Original painting size: 40" x 20"
Acrylic on board
Completed 2013

---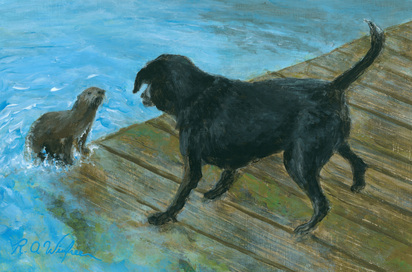 Tag - You're It!

As we prepared to board a float plane in Kodiak, Alaska, a river otter deliberately teased a dog by leaping onto the dock and shaking water onto the dog, then turned, hopped back into the water, and swam away.

Original painting size: 8" x 11"
Acrylic on art paper
Completed 2012


---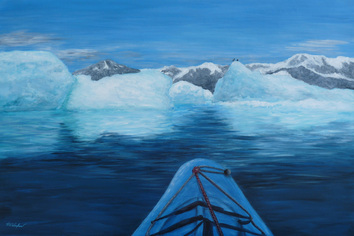 Tidewater Icebergs
The icebergs below Alaska's Columbia Glacier make for dramatic scenery and potentially hazardous boating.

Original painting size: 24" x 36"
Acrylic on plywood board
Completed 2011

---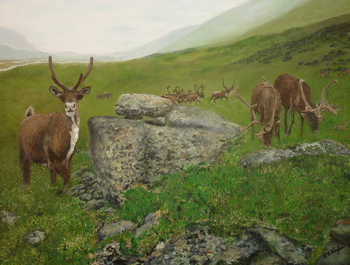 Safe Passage
On a 2009 trip into
Gates of the Arctic National Park,
Alaska, in 2009, we climbed the slopes above the Okomilaga River to view migrating caribou. We hid behind these stone hunting blinds made for the same purpose by Native hunters long ago.
Original painting size: 20" x 24"
Acrylic on paper, over board.
Completed 2010
---
Serptentine Black Sea Ice on Turnagain Arm

The dark-colored January sea ice in Turnagain Arm, Alaska results from strong tides (about 30 feet) that roll broken sea ice in glacial silt that then freezes onto the bergs during low tide.

Completed 2010
Original painting size: 40" x 21"
Acrylic on board

---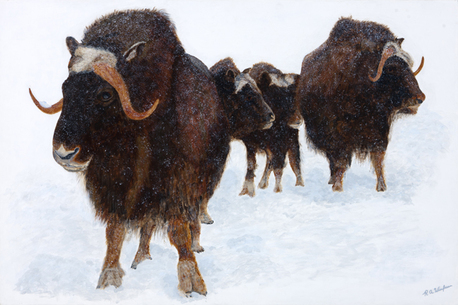 Family of Musk Ox
A family of Alaskan musk ox cluster together to confront an approaching figure. It's a special treat for me to see a wild herd - or even a solitary musk ox when visiting
Bering Land Bridge National Preserve
.
Completed 2009
Original painting size: 24" x 36"
Acrylic on board
---