Enchanted Garden coloring book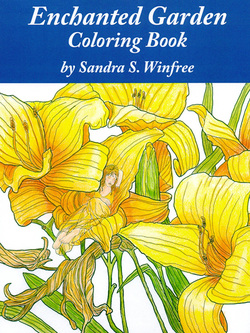 What do you see when you look at a flower?
Do you see the color of the petals, shapes of the leaves, or perhaps the little creatures nibbling and scurrying among the stems. Alaska artist Sandy Winfree sees more than most of us, as she also sees people among the plants. Sandy draws in a photorealist manner, and includes diminutive people among the flora. If you are inclined toward the beauty of nature, we invite you to take a look at
Enchanted Garden
, her new coloring book for coloring artists of all ages and post a review of your own on
Amazon
. Sandy's book includes 27 line drawings based on her highly detailed original drawings of beautiful flowers, tiny women and girls (fairies or sprites). On the front and back covers, Sandy shows us how she might color two of the line drawings contained inside. She also provides very good coloring tips on the first page.
---