Show Calendar 2015
Friday-Sunday, Nov. 27-29, 2015
Anchorage Museum,
Thanksgiving Crafts Weekend
10 am-6 pm, Friday, Nov. 27th and Saturday, Nov. 28th
Noon to 5 pm, Sunday, Nov. 29th
625 C St, Anchorage, AK 99501
Saturday, Nov. 7th, 2015, 10-4
Rabbit Creek Community Association 2015 Christmas Towne Bazaar
South Anchorage High School
13400 Elmore Rd., Anchorage, AK
Saturday, Oct. 24th, 2015, 9-4
St. John United Methodist Church
42nd Annual Fall Craft Sale
1801 O'Malley, Anchorage, AK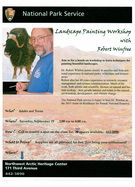 Saturday, Sept. 19th, 2015.
Landscape Painting Workshop, Kotzebue, Alaska Saturday, Sept. 19th, 2015
Suitable for beginners or experienced artists. No experience required. All materials and training will be provided for each participant to complete and take home an original painting after the 3-hour workshop. Preregistration required. Class size limited to 40 adults and teens. Contact the National Park Service Visitor Center.


---