2014 Show Schedule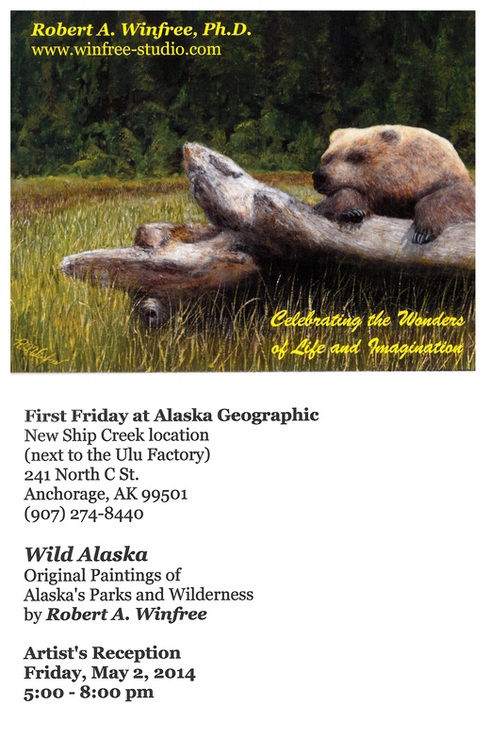 Solo Art Exhibition: Robert Winfree's WILD ALASKA

Two Artist's Receptions: Friday May 2 and Friday June 6, 2014, 5:00-8:00 pm at Alaska Geographic's new Ship Creek location (next to the Ulu Factory) at 241 North C. Street, Anchorage, AK.
Robert Winfree (Bob) is an Alaskan scientist and self-taught artist who works in natural and human ecology. During the last few years, Bob's paintings have appeared in at least ten judged and juried exhibitions winning several awards. In 2010, he began painting his Wild Alaska series to share and visually interpret the natural and cultural heritage of Alaska's public lands.

Bob's style leans towards natural realism, with accurately-detailed images of Alaska land and seascapes, wildlife, and people, sometimes with an impressionistic touch. He enjoys working in acrylic paints because of their fine colors, exceptional versatility and permanence.

Bob's long career as a scientist and advisor to the U.S. national parks has enabled travel to many extraordinary places, from the deep canyons and high deserts of western North America, through Alaska, to the Siberian Arctic, and more. These magical places, their natural wonders, ancient and traditional cultures, and other mysteries also inspired his international-award-winning publication series Alaska Park Science. Art and nature lovers alike will enjoy reading his richly-illustrated article about artists' influences on America's national parks, wildlife refuges and wilderness movements (available for free downloading.

Bob is an experienced backcountry traveler who welcomes invitations to join other expeditions when appropriate, as a volunteer expeditionary artist, photographer, and science writer.

---